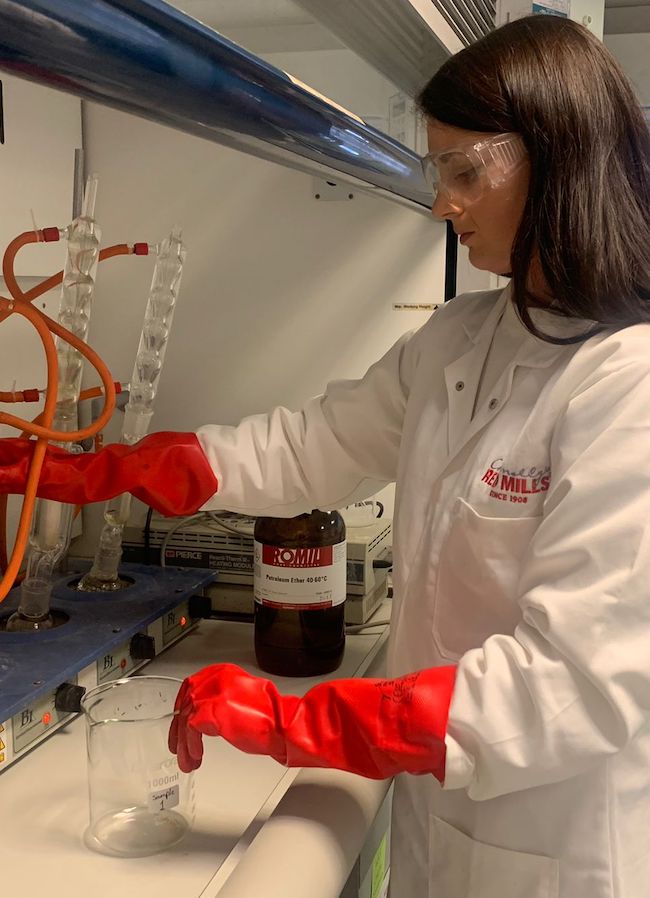 Discover your best future
At Connolly's RED MILLS, we work together to build your best future. We are passionate about building a global business with our rural heritage and history at its core, working as a team to achieve our goals and believe in our vision.
We place the animal at the centre of everything we do and are dedicated to delivering premium-quality products for animal nutrition and healthcare.
From production to administration, if you are looking to develop your career, realise your ambitions and work with a company that is continuously growing and succeeding at home and across the world, then we are the company for you.
Come build a career at Connolly's RED MILLS, where investing in people is investing in your future and ours for a better future together.
Connolly's RED MILLS
Why join the RED MILLS team?
Innovation:
We are passionate about innovation and committed to keeping up with new developments in the industry to ensure our products stay ahead of the times.
Customer-centric:
Connolly's RED MILLS is a committed to keeping our international customers happy. We strive to meet the needs of our customers across more than 80 countries worldwide, welcoming their feedback to drive new product developments and improved customer service excellence.
Community:
Our community matters to us! The RED MILLS community is a special collection of Connolly's RED MILLS customers and ambassadors who support, represent and trust our brand.
Integrity:
Being honest and transparent about our products and endeavours is important to us. Our customers, partners and the greater public value the integrity our brand upholds.
Learning & Development:
Growth is key at Connolly's RED MILLS. We support the personal and professional development of our team members, and encourage learning new things that help to develop our brand.
Testimonials
Working at Connolly's RED MILLS
In the last 5 years, I have gained valuable experience from the beginning of my placement working in retail and Agri-sales to now managing a state-of-the-art laboratory with Olympic standard equipment. My day involves screening and quantifying Naturally Occurring Prohibited Substances and mycotoxins using Orbitrap Mass Spectrometry, vitamin and mineral testing using High Performance Liquid Chromatography and X-Ray Fluorescence spectrometry and managing a team of six lab analysts.
Sophie Cunningham
Senior Analyst & Laboratory Manager
I've had the pleasure of working in Sales Support in Connolly's RED MILLS for over 5 years now.
What I love most about my job are the people I work with. From my work colleagues in Goresbridge, on our other sites, to the reps on the road, etc. there is a great sense of inclusivity. Everyone helps each other in the best way they can and if they can't you can be sure they will point you in the right direction.
Sarah Sheill
Sales support
I began working for Connolly's RED MILLS in September 2017 through their Graduate programme, 5 years later I now hold the position of Equine Marketing Executive. RED MILLS is a dynamic, ever-growing company with the most amazing team of employees! A bonus for me is that I get to embrace myself in something I love, which is working with horses
Lauren Cushe
Equine Marketing Executive
I joined Connolly's RED MILLS in 2006 , I started off in a merchandising and promotions role around Ireland ,selling one bag at a time and today I sell containers at a time and travelling all around the world .
Connolly's RED MILLS has evolved so much since then and is growing at an even faster pace now . We have so many exciting projects progressing so never a boring moment .
In my time with Connolly's RED MILLS I have been supported in every way , I've been trained , mentored and sent to college . Ive been given the chance to be the best I can be and nurtured to success . I cannot speak highly enough how working for a Connolly's has benefited me and my home life.
Eddie Corless
Global Pet Sales Manager
I enjoy my job immensely as each day is different, dealing with people gives me a great level of satisfaction, particularly when I can give advice and assist our Connolly's RED MILLS clients in a helpful, meaningful and trustworthy way.
Michael Martin Butler
BAgri, MSc. Animal Science